---
"Thots & Thoughts" is a column in which musings on dating, sex, race, religion, and politics all come together—from a bird's-eye view.
(Article by Michael Arceneaux)
There is only so much one can glean from another's social media accounts. Sure, there's a lot that can be unraveled in terms of behavior and character, but these are not media in which anyone can do so in totality. So when it came to criticism about Nicki Minaj over her silence about the mass shooting at Pulse nightclub in Orlando, much of it felt unfair, or at the very least, not appropriately contextualized.
Would I have handled critics exactly like Nicki Minaj did? No, but there was a lotof presumption in one particular tweet that sparked additional online criticism. The tweet in question read: "I'm kind of offended that Nicki could tweet about a song but can't acknowledge the shootings in Orlando."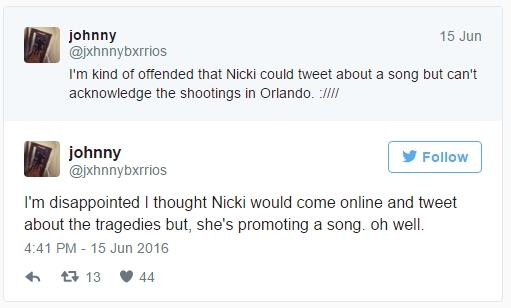 As far as Minaj tweeting about her single, let us not forget that Minaj is an artist—you know, an employee—and part of an employee's said duties would include the promotion of their work. That said, when it comes to Minaj, Swift, and Rihanna, I do understand the notion that considering how instrumental gay men have been in their careers as fans, dancers, make up artists, hairdressers, and other professional duties, there ought to be a specific sensitivity to tragedies directly impacting the LGBT community.
It is a valid observation, though a lack of social media updates does not necessarily mean these artists don't care. The same goes for others in media and entertainment. Just this week, I saw someone tweet at the podcast "Another Round" about their lack of response to the Orlando shooting. The podcast's response was: "we havent recorded a full episode since it happened."
Beloveds, don't let the internet fool you into thinking everything is or must be instantaneous.
While it is true that Minaj has addressed matters like the death of Sandra Bland, it was not days after her death but months after a grand jury failed to make any indictments. I don't know if these celebrities have actually made any donations to charities in support of Orlando's victims. Neither do you. I don't know if these artists will ultimately issue statements about the mass shooting at a later date. Neither do you.
What I do know, though, in my own life as a gay Black man, many people handle tragedy differently. Moreover, there is no one way to handle tragedy. So when the likes of Perez Hilton attacked Minaj online, I found his sudden urgency for decency, respect for humanity, and political correctness rather dubious. After all, this is the same person who called Will.I.Am a "faggot" and "thug" and he's repeatedly been contemptous in his criticism of Black female celebrities like Nicki Minaj. To that end, if there is a hell, that hypocritical motherfucker can dive fingers and tongue first into the seventh circle.
In any event, Nicki Minaj is not the only person subjected to this habit of being called out by fans for doing things as they see fit. Just this week, Paris Jackson noted that she caught a lot of heat from fans over not posting about Michael Jackson on Father's Day. She wrote on Twitter: "If you try to harass someone into posting online about a holiday (father's day), ask yourself if it's any of your business."
Ultimately, the problem here lies in some folks' unfortunate feeling that when someone is a public figure, they are owned by the public and therefore the public is entitled to dictate how they should act. Meanwhile, in the real world, fans do not own celebrities. There is constructive criticism and then there is criticism seasoned with presumption, marinated in guilt tripping, and served with a side of self-righteousness.
Again, I understand that some acts with huge gay fan bases could stand to be more empathetic as many look for upliftment wherever they can find it. However, not getting it as you see fit does not mean that whatever star you're mad at is a heartless hypocrite. You cannot manipulate a reason from any person, and even if you manage to, the fact remains that you don't know what's in their heart.
Stop pretending otherwise.
Read more at: complex.com